Convoy of Hope Delivers GP Products to Aid Hurricane Florence Victims

In response to Hurricane Florence that slammed the coastal Carolinas this month, Georgia-Pacific is working with long-time partner and disaster relief organization, Convoy of Hope (COH) to provide aid to those in need.
To relieve the thousands affected by the storm's destructive path, COH is getting donated supplies and food into the hands that need them most.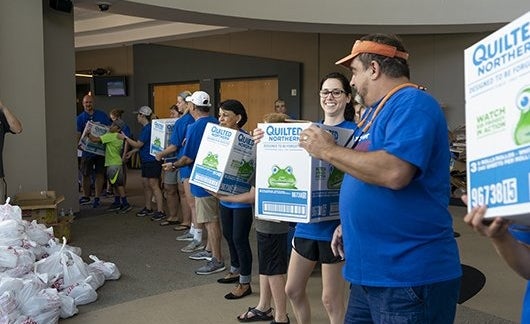 Quilted Northern products were just some of the supplies GP donated to COH.
As a part of its emergency response, Convoy of Hope has distributed 15 truckloads including 18 pallets of GP branded products including Quilted Northern bath tissue and Brawny® wipes. Distribution areas have included the community of Lumberton, North Carolina, the site of GP's cellulose facility, and the surrounding cities of New Bern, Wilmington, Kenansville, Wallace, Raleigh and Raeford.
COH has a long history of collecting and distributing supplies to disaster victims and has partnered with GP in the past, including during the 2016 flooding in Louisiana, last year's Hurricane Harvey and the recent natural disasters in California and Iowa.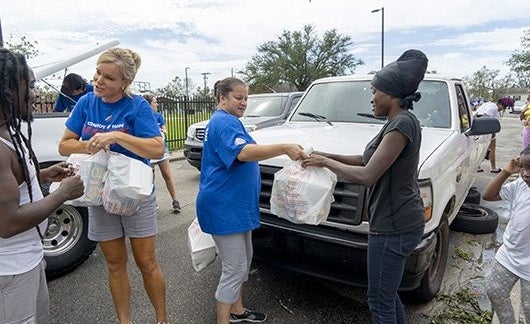 COH volunteers handing out vital supplies and food.
You Can Help!
GP estimates that at least 30 employees near the Lumberton area have been affected by devastating flooding. Those wanting to help can donate to the Koch Employee Assistance Fund, which helps GP employees directly. Donations to support the area can also be given to Convoy of Hope.
To hear more about COH's response to Hurricane Florence – watch this video: www.convoyofhope.org/blog/features/disaster-response/hurricane-florence/