GP Bucket Brigade Project Continues to Expand

Pretty soon, we're going to need a bigger bucket!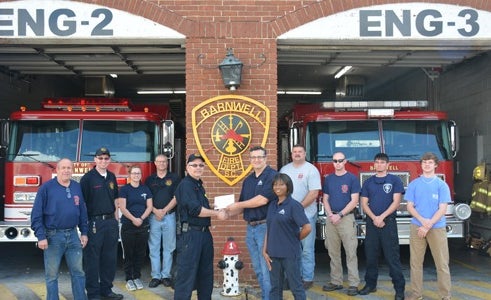 This year, Georgia-Pacific's Bucket Brigade Grant program awarded $214,000 in grants to 47 fire departments across the country, bringing our 12-year program total to approximately $2.4 million in cash and educational materials for our everyday heroes. These funds help keep firefighter safety a top priority by giving them the ability to purchase new protective clothing and replacement of old equipment.

Grants are awarded based on need and are funded by the Georgia-Pacific Foundation and local Georgia-Pacific facilities. And to ensure hard work doesn't go unnoticed, all grant applicants are gifted free memberships to The National Volunteer Fire Council (NVFC), which provides access to tools, resources, programs and advocacy for first-responders across the nation.

Did you know that over 70 percent of firefighters are volunteers, and that a considerable amount of GP employees serve as volunteer firefighters for their communities? Since 2006, GP has proudly played a role in protecting first-responders and keeping communities safe by awarding more than 400 grants to over 300 fire departments.

The fire departments receiving Bucket Brigade grants this year spans across 20 states where Georgia-Pacific has facilities: Alabama, Arkansas, Florida, Georgia, Indiana, Kentucky, Louisiana, Massachusetts, Michigan, Mississippi, New Jersey, North Carolina, Ohio, Oregon, Pennsylvania, Tennessee, Texas, Washington, Wisconsin and Wyoming. 

Congrats to all our winners!

Visit our Georgia-Pacific Bucket Brigade website for more details about the program.