GP Cellulose Partners with UNICEF to Expand Successful Green Hand® Project from China to India.

About this story:
Green Hand® Project Extends Helping Hand from China to India.
Green Hand® project leads to positive changes in China and its reach is being expanded to India.
Since 2013, GP Cellulose has been working with UNICEF to help provide clean water and sanitation to children in China. Through the Green Hand® project, an initiative of GP Cellulose in close collaboration with UNICEF, the goal is to tackle the problem where thousands of children attend schools without adequate sanitation, which exposes them to potential health issues and may result in absenteeism.
The project supports UNICEF initiatives and activities that focus on improving Water Sanitation and Hygiene (WASH) practices in schools where clean water is lacking or non‐existent. To date, the program has helped improve the lives of more than 100,000 children. School and community-based activities have resulted in a decrease in the number of students who miss school, student retention is up and healthier children are learning in a better overall educational environment.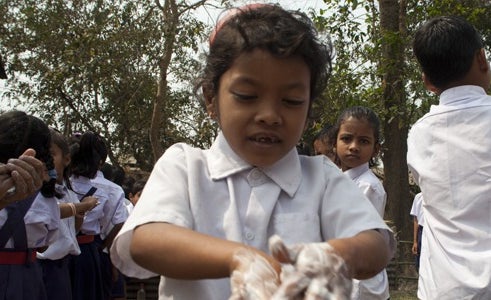 Inadequate sanitation is a global issue
Unfortunately, the problems noted are hardly unique as evidenced by a World Bank study showing 2.4 billion people worldwide lack access to adequate sanitation facilities. The report reveals India is especially vulnerable.
750 million citizens in India lack access to adequate sanitation facilities
80 percent of those impacted live in rural areas
One in ten deaths in India each year is attributable to poor sanitation
More than 500 million citizens suffer from preventable illnesses each year
Children are particularly susceptible to chronic infections from contaminated water
Expanding to India
Since the beginning of its partnership with UNICEF, GP Cellulose has committed $1.5 million in funding for water and sanitation improvements in rural Chinese schools. With the success seen in China, GP Cellulose has decided to deepen its commitment to UNICEF and expand the partnership to support WASH programs in early childhood centers and schools in India with an additional $500,000 contribution over the next two years. Those funds will be used to build new WASH facilities in schools and conduct.