Transforming Wood Waste into Energy for Our Mills

About this story:
Wood waste helps us to reduce our dependence on fossil fuels and curtail the demand for purchased electricity.
"Biomass" isn't a word most people know. But this renewable, cost effective fuel is becoming increasingly important to our planet. It helps reduce our dependence on fossil fuels and curtail the demand for purchased electricity while lowering greenhouse gas emissions.
What is biomass? It's fuel from organic materials. The woody biomass GP uses comes mainly from tree waste, such as bark, wood residues and by-products from pulping wood fiber. And it makes up more than 50 percent of the energy we use to run our plants and mills.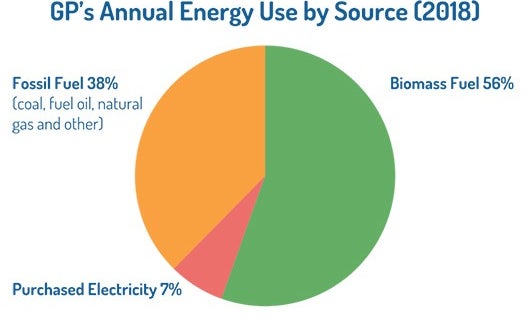 As whole trees come into sites such as our Alabama River Cellulose (ARC) facility near Monroeville, Alabama, bark is removed from logs before they go into the chipper. The dissolved lignin (black liquor) is later removed leaving behind the cellulose fibers. The bark and the black liquor are then used as biomass fuel.
"Once the black liquor is concentrated, it makes an excellent fuel for the boilers that make the steam that turns the turbines, which then spin the generators," explained ARC Vice President and General Manager Tim McIlwain. "We also purchase bark from other facilities that don't use it for energy production."

By using virtually every part of the tree, ARC generates more than 90 percent of the electricity needed to run the site. It's also a frequent seller of electricity to the grid.
GP as a whole is responsible for more than 10 percent of the electricity generated from woody biomass in the entire United States. While we use most of this renewable energy, GP also supports renewable energy development by selling some of it in the form of renewable energy certificates.
Evidence shows that biomass is an environmentally efficient and responsible energy source. For example, in the United States, where twice as much wood is grown than is harvested, carbon dioxide (CO2) storage in forests continues to increase, offsetting about 12 percent of the country's total CO2 emissions. At GP, we keep thinking about sustainability.