Brawny Paper Towel Continues #StrengthHasNoGender Initiative

This is the fourth consecutive year since Brawny first launched their "Strength Has No Gender" campaign on International Women's Day, March 8. Over the years, throughout Women's History month, this monumental campaign has featured Brawny limited‐edition packaging and accumulated an impressive collection of videos that showcases females of all ages breaking down gender barriers daily. The brand also continues its partnership with the well‐known nonprofit, Girls Inc., with a contribution of $75,000. The funds will support the many different inspiring programs that Girls Inc. offers to young women across the globe. The mission of Girls Inc. includes encouraging girls to be strong, smart and bold–leading them to become outstanding role models in their communities.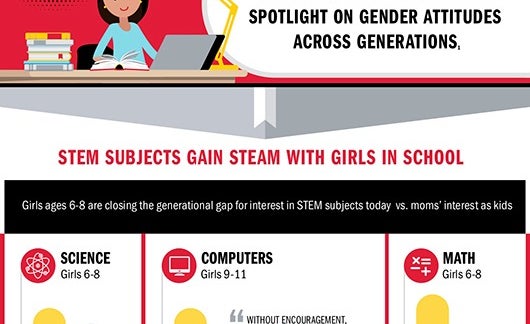 Although women have made significant strides over the years, there's still a lot of work to be done. This year, Brawny® wanted to highlight the gender stereotypical gap that still needs to be closed. Brawny® performed a nationwide online survey that examined the perceptions of role models, strength, heroism and professional aspirations by children, ages 6‐11, and their parents. Key findings of the survey included:
Among Girls ages 6‐11, three of their Top 5 favorite subjects in school were STEM related (Math, Science and Computers)
Girls ages 6‐8 are closing the generational gap for interest in STEM subjects (5% higher in Science and 14% higher in Math) today vs. Moms' interest when they were kids
Despite a growing interest among Girls in STEM subjects at the elementary school level, only one STEM occupation (Scientist) made the Top 10 of job aspirations
Parents most frequently identified the following jobs as better suited by gender, reinforcing consistency with professions that are gender imbalanced:

For Girls: Makeup Artist, Nurse, Teacher, Stay‐at‐Home Parent, Cheerleader
For Boys: Police Officer, Military, Firefighter, Mechanic, Professional Athlete

Kids of both genders identify male‐dominated professions such as construction worker & firefighter as jobs for Boys
Sign of the times – YouTuber (6%) and Video Game Designer (4%) break into Top‐10 of rankings of jobs that Boys covet
Dad was named strongest figure in Girls' and Boys' lives, while Mom ranked second. Girls were more likely than Boys to identify Mom as the strongest person they know (37% vs. 26%)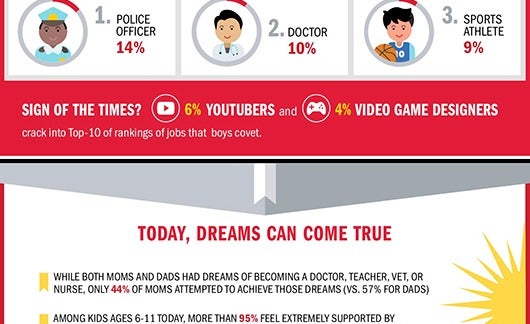 With this survey, Brawny® is encouraging people to, at the very least, start the conversation. Conversation leads to planning, then action and ultimately to change.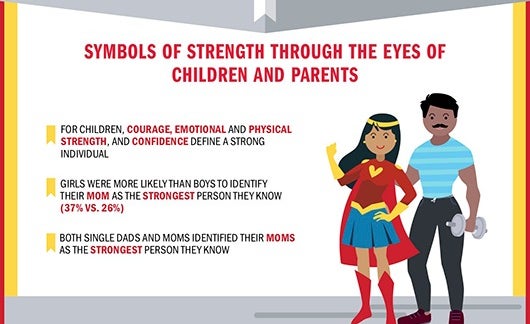 To reinforce the generational theme of this year's campaign, see the short film above that honors past female pioneers that pave the way for the women of today, as well as lend support to future generations.