Diboll Lumber's New Multi-Million-Dollar-Crane Picks Up the Pace

Everyone look up and say hello to Kone – the brand-new Kone crane, that is. After just six months of construction, this multi-million-dollar investment is in full operation at Georgia‐Pacific's lumber mill in Diboll, Texas. At 80 feet wide, 927 feet long, and 87 feet in total height, the new crane is living up to its expectations and making the process of unloading log trucks more efficient and safer.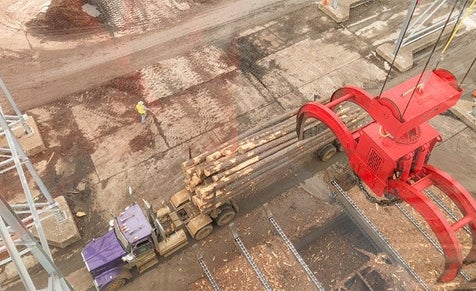 The new Kone crane unloads trucks in one bite, compared to the previous crane that had to make two passes to collect the wood.  According to Rudy Salazar, a 20-year crane operator and one of the four crane operators at Diboll Lumber, the new crane benefits log truck drivers who can deliver their loads quickly.
"It's amazing how fast we can unload trucks with this new crane," said Salazar. "This is the first step in the wood manufacturing process – the speed and efficiency of the crane is critical and ultimately affects the mill's overall production."
The mill's original crane was used as in military shipyard and was then relocated to Diboll in the 1960s, with an unload rate of about 50 trucks per day. After upgrades, efficiency increased, and the crane ultimately served approximately 130 trucks daily until construction began on the new crane.  Today, the it's unloading up to 165 trucks each day.
"This is a significant investment in the East Texas timber industry," said Danny Wright, plant manager for Georgia‐Pacific Diboll Lumber.  "As one of Georgia‐Pacific's largest lumber operations, we are constantly looking for ways to enhance and grow operations in East Texas while focusing on safety and environmental excellence."