Employee Volunteers Complete 30th Atlanta Habitat for Humanity Home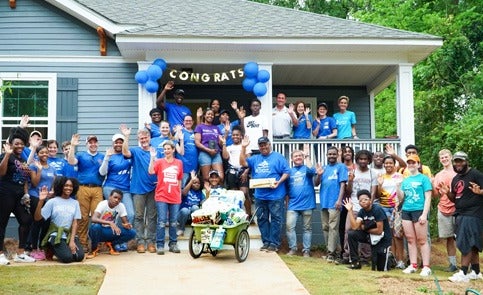 For more than 20 years, Georgia‐Pacific has teamed up with Atlanta Habitat for Humanity to construct homes for qualified and hardworking families. We share in its mission to "build strength, stability and self-reliance through shelter."
In fact, employee volunteers recently finished and dedicated the 30th Atlanta Habitat for Humanity home. From start to finish, about 240 employee volunteers collectively spent more than 2,000 hours rain or shine over eight weeks until the project was complete.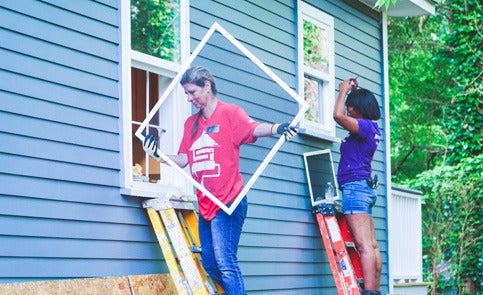 During our partnership with Atlanta Habitat, employees have contributed more than 62,000 hours to make the dream of home ownership possible for Atlanta families. Our volunteer commitment also extends beyond our home city – Georgia-Pacific often supports Habitat chapters in our facility communities across the country.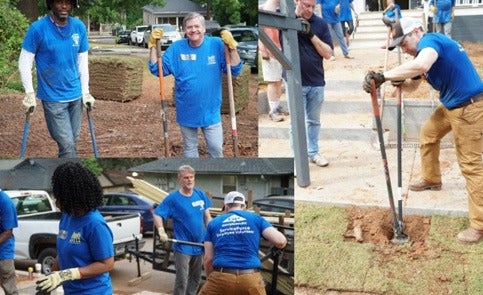 The Homeowner Journey
While the homeowner is building side‐by‐side with our hard-working employee volunteers each Saturday, they're often juggling work and school too. The homes are not just built and handed over, they must complete 250 hours of 'sweat-equity'. These hours can be used on their own home, another Atlanta Habitat homebuyer, the Habitat ReStore or Atlanta Habitat headquarters. Homeowners are required to finish an intensive program before they can receive the keys to their new home. They must first complete an application including a background check and income verification— this is typically a three‐month process. After approval, they attend wellness classes and create financial savings plans, and even learn how to do home maintenance. Once these are in order, the home construction process can finally begin. The homeowner jumps in on the action by volunteering to assist with the construction of their own home, as well as other Habitat builds.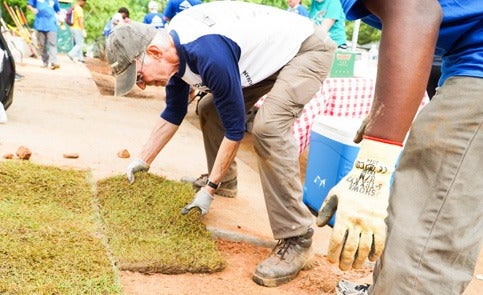 The 30th Build Homeowner
We are proud to dedicate this 30th home build to Ms. Nykeva Blake, a dedicated mother of two. Ms. Blake is a spa technician that enjoys attending church and volunteering at a battered women's shelter. She also enjoys yoga, riding her bike on the Atlanta Beltline and traveling. Her 13‐year‐old son is a freshman in high school who enjoys basketball, science and video games. Ms. Blake's 12‐year‐old daughter loves to bake and decorate. The family is eager to have a home that they can "call their own."
"I'm just really looking forward to sitting on my own porch. I've always wanted that and it's finally happening,"said Ms. Blake. "I know that the kids are looking forward to being so close to the Atlanta Beltline and riding their bikes with their friends."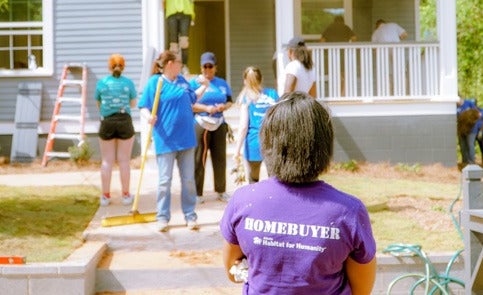 More Than a Home
Some homeowners have gone above and beyond the general requirements. One homeowner, along with three other families from a previous build, used an empty neighboring lot as a community garden to grow vegetables for themselves and others. Quite a few other homeowners pay extra on their monthly mortgage with only a small amount left to completely pay it off. Atlanta Habitat also builds homes on the same street intentionally as a part of their &lquo;Build the Block&rquo; strategy. This is an attempt to fully transform neighborhoods street by street and construct complete communities. Not only is this good for the entire community but it also increases the property value for the induvial homeowners.
Habitat for Humanity's program further proves why giving a hand‐up and not a hand‐out works—people take more pride in things that have been earned and a home with built with dignity is invaluable.
Watch the video above to see how Ms. Blake plans to enjoy her new home.