Convoy of Hope and GP Helps Natural Disaster Victims Across Central U.S.

Due to the recent record flooding in Oklahoma, Georgia‐Pacific has again teamed up with Convoy of Hope to provide aid to disaster victims. Multiple communities have been affected including Tulsa, Fort Gibson and our mill area in Muskogee.
Flooded roadways and rising waters have impacted at least 109 Georgia-Pacific employees as well as their families in nearby areas. Operations at the mill were temporarily affected due to rising waters that forced the river water pumps offline.
Convoy of Hope, GP's ongoing partner for distributing products in disaster areas, has delivered three truckloads including 28 pallets of GP products to the Muskogee and Fort Gibson areas in the last two weeks. To help shoulder the burden of those affected by the flooding, the products distributed so far include Quilted Northern bath tissue, Sparkle®paper towels and Brawny® Giant Durable Wipes.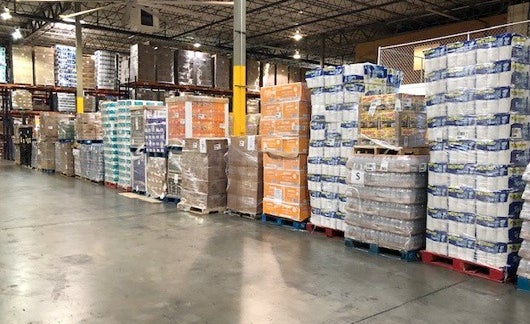 Aside from Oklahoma, the extremely destructive weather across the country has kept Convoy of Hope very busy! Since May 23, Convoy of Hope's Disaster Services team has served 50 communities across five states that have been affected by tornadoes, flooding or water systems that have been compromised due to flooding. Convoy of Hope has served more than 84,000 individuals in Missouri, Oklahoma, Ohio, Kansas and Arkansas in response to six different disasters over recent weeks.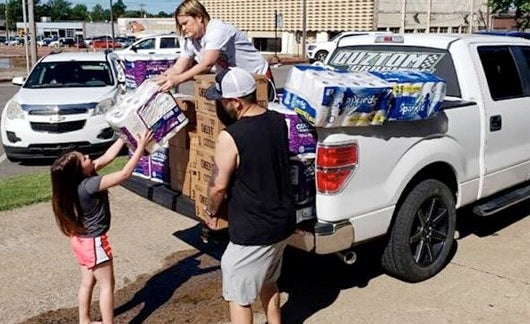 (GP products distributed at Muskogee)
To learn more about Convoy of Hope's mission and for more updates, visit www.convoyofhope.org
To help vital recovery efforts due to natural disasters, the Koch Employee Assistance Fund was created in 2016. Managed by the Emergency Assistance Foundation, this fund is designed to aid employees Koch‐wide who have suffered losses, and it also accepts direct contributions from employees. You can visit the Koch Employee Assistance Fund here.