Brawny® Brand Rolls Out Support to Giants Taking Action in Their Community!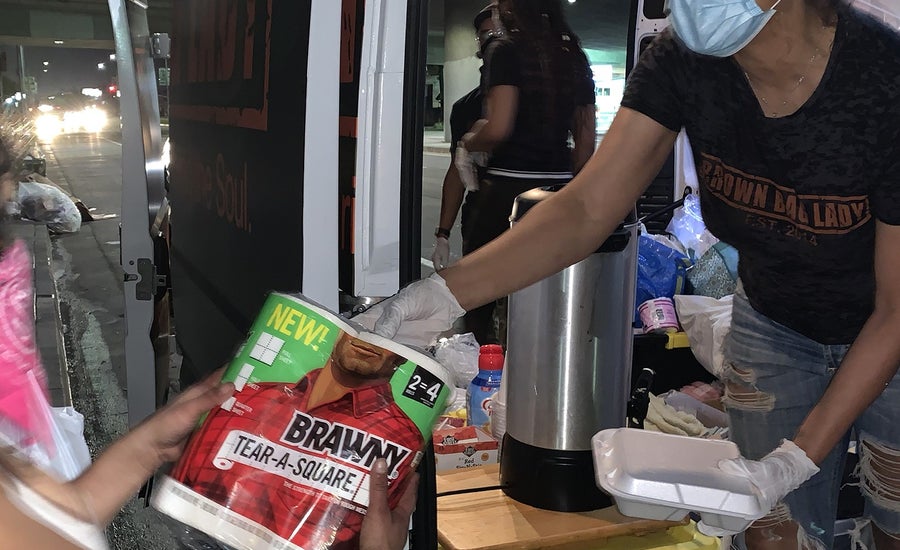 Jacqueline Norvell cooks meals for the homeless on Skid Row in California.
Being a giant has nothing to do with the height of a person but all to do with the size of their heart. The good deeds that come from the hearts of these giants are done without expecting anything in return or recognition. Inspired by the stories of those taking action to help others in their community in the midst of COVID-19, the Brawny® brand launched The Brawny® Giants Initiative.
Over an eight-week period, the Brawny® brand is asking consumers to nominate their friends, family members, and neighbors who are taking action and helping people whose lives have been affected by the novel COVID-19 pandemic for The Brawny® Giants Initiative. The Brawny® brand will recognize and support some of these individuals to help them continue to take action.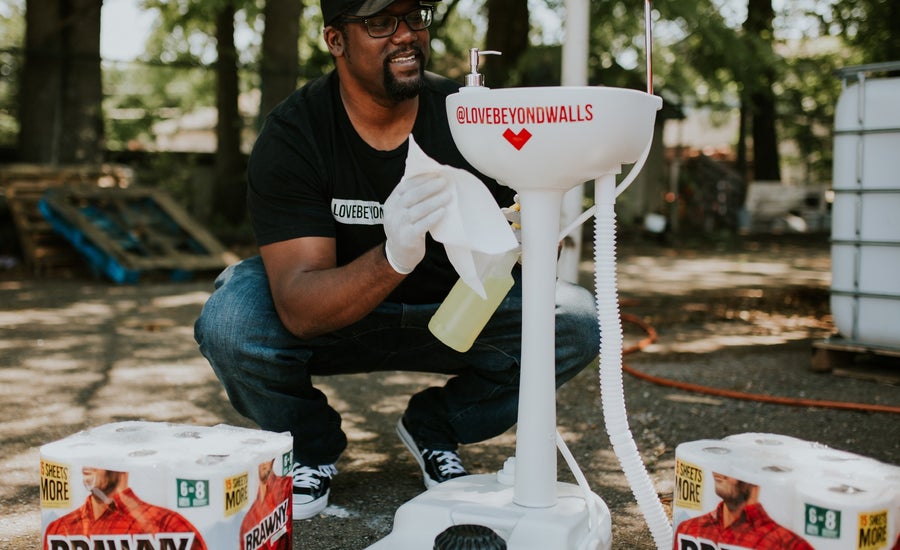 Terence of Love Beyond Walls created portable sinks for the underserved to wash their hands and avoid contracting the virus.
"These giants embody our brand purpose of inspiring others to overcome life's challenges with strength and resilience. The Brawny® team is proud to be able to support and help them keep doing their incredible work," said Katie Kolesky, Senior Director of Brand Building, Brawny®. "We know there are many giants out there, which is why we're asking consumers for their help to find more of these individuals. We want to know who in their communities has stepped up and could use support to be able to keep making a difference."​

Watch the video below to see the Brawny® Giants across the country in action!

The Brawny® Giants Initiative
While the Brawny® brand will continue to highlight more giants to come on their social pages, here are some from around the country who have already received support:

●            Cavanaugh Bell, Maryland – Cavanaugh, age 7, who spent his life savings to make care packages for seniors in his community. In reaction to the overwhelming positive response, his family started a community pantry.
●            Charlie Lettice, New Jersey – Charlie, age 11, was inspired by all of Cavanaugh's good work and reached out to see how he could help. Cavanaugh helped jumpstart Charlie's care packages by sending him materials and encouraging him to deliver them to families in need.
●            Meg Heriford, Kansas – A restaurant owner who had to shut down her diner due to COVID-19, Meg quickly converted her space into a food pantry to make lunches for people in need.
●            Ray Nell Jones, Pennsylvania – A single mother and owner of non-profit The Allignment Chapter, Ray Nell is delivering essential goods to support other single mothers during the crisis
●            Terence Lester, Georgia – Terence is head of Love Beyond Walls, a nonprofit that helps the underserved in cities across the country. Terence created portable sinks so homeless people could wash their hands to avoid contracting the virus.
●            Jacqueline Norvell, California – Jacqueline works at a law firm, but on the weekends spends time cooking meals for the homeless on Skid Row, which inspired the creation of her nonprofit organization, Brown Bag Lady.
●            Blake Rand, Florida – Blake, age 17, created coronafinds.com to connect people in need with the products they are searching for.
●            Laura Hutchins, Massachusetts – Laura, owner of cleaning service Happy Home Maid Service volunteered to clean essential workers' homes while they're hard at work on the frontlines of the crisis.​​

To nominate a giant, or to be inspired by those taking action, visit Brawny.com/giants. For the latest updates on how the Brawny® brand is navigating the COVID-19 pandemic, please visit the website.​