GP Employee Spotlight: Terry Bryant
GP is shining the light on amazing employees that contribute to the success of our company and their career journey that keeps them fulfilled.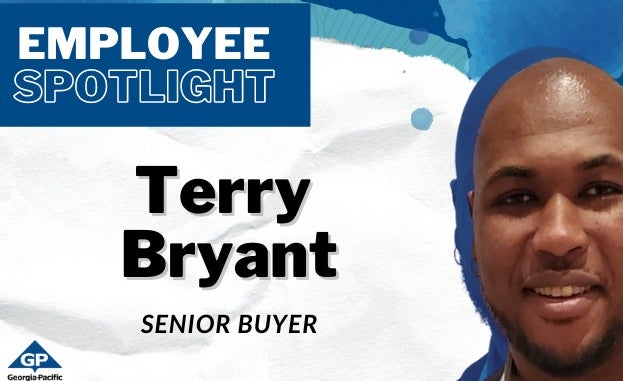 Terry Bryant, Sr. Buyer – Gypsum plant in Savannah, Georgia
What does your day-to-day workload look like? What do you enjoy most?
My day-to-day workload varies from day to day so being flexible and able to adapt and adjust on the fly is key as I often have competing priorities and being able to manage them is an essential part of my job.  A week in the life of a Sr. Buyer consists of proactively running reports (Accrued Liabilities, Inventory Over-max, Open Invoices, etc.) and taking the appropriate action necessary to resolve any issues.  Managing and supporting our engineers and operations on the Procurement side of MEP projects going on at the facility, including but not limited to issuing purchase orders, bidding for suppliers, services, and parts. The part of my job that I enjoy the most is building relationships across departments to help build one big cohesive team and environment where maintenance, operations, engineering all feel comfortable with communicating openly and transparently which makes us all stronger as individuals and as a team.
How did you get to where you are today in your career? Are there hurdles you had to overcome?
I definitely had quite a few hurdles during my career journey. The first job I ever had was as a professional football player in the National Football League with the then Washington Redskins (Washington Football Team) and the Green Bay Packers but my career was cut short after a series of injuries that forced me to retire after 2 years.  Since then, I've held jobs ranging from Insurance Sales to Logistics but was always kind of stereotyped as an ex-athlete who only obtained a college degree (Industrial Education, Clemson University) because of athletics and not academics. So I've always had to go above and beyond and be better than everyone else in my peer group in order to be taken seriously, but through hard work, determination and GOD's favor I was finally able to break through and get my first big break as a Logistics Lead for Target Corp. in Atlanta, before being hired at Georgia-Pacific as a Stores Leader where I was able to excel in that role which led to me being promoted to my current role as Sr. Buyer for Savannah – Gypsum.  My career journey has had a lot of ups and downs but it has prepared me for future success.
What advice would you give to students/young professionals entering into the workforce within your field? 
The advice that I would give young professionals is to seek as much knowledge about your job as possible and be willing to be flexible, don't be afraid to ask for help when needed and leverage every resource available to you including prayer, which I've become a pro at. To those who are still students, I would say reach out to others who are currently working in your field and pick their brain and even ask if you can shadow them for a week to see what all happens within a normal work week. This will give you a realistic view into their world and also show you how other courses can tie in with your profession that you may not have realized previously.
What does Black History Month mean to you? Any personal feelings towards diversity and inclusion and how you apply it to your job?
To me Black History Month is all about remembering where we as a people have come from and how far we've come. When I think about the obstacles that generations past had to overcome it makes me proud to be an African American and it is only fitting that we celebrate those who have fought for change and the advancement of our culture.