GP's Leaf River, Miss., Facility Becomes First Pulp Mill to Earn EPA ENERGY STAR Certification; other GP facilities also receive recognition for sustainable efforts
About this story:
GP's Leaf River, Miss., facility becomes first pulp mill to earn EPA ENERGY STAR certification.


Efforts to reduce water use, use energy efficiently and streamline resources used to ship products across the U.S. earned employees and GP facilities a variety of awards from the EPA. 
Georgia-Pacific facilities received several awards and certifications, including the ENERGY STAR® Top Project for 2020, an ENERGY STAR® Certification, the SmartWay Excellence Award and a 2020 Energy Star Challenge Achiever for Industry by the EPA.
Leaf River, Mississippi
The Leaf River cellulose mill in New Augusta, Mississippi, became the first U.S. pulp mill to earn the EPA's ENERGY STAR certification, signifying that the manufacturing facility performed in the top 25 percent of similar facilities nationwide for energy efficiency this year.
"The Leaf River team works hard to find and create new and more efficient ways to transform the way we operate the mill," said Chuck LaPorte, general manager of the Leaf River Cellulose mill. "I'm proud of the great work being done by our employees to advance the facility's efforts to consume fewer resources and achieving EPA's Energy Star certification underscores the team's dedication and commitment to this goal."
Leaf River Cellulose | Georgia-Pacific
Brewton, Alabama
Georgia-Pacific's Brewton Containerboard mill has been named a 2020 Energy Star Challenge Achiever for Industry by the United States Environmental Protection Agency (EPA), a program developed by the agency to recognize individual facilities for volunteering to reduce energy intensity by 10% within five years.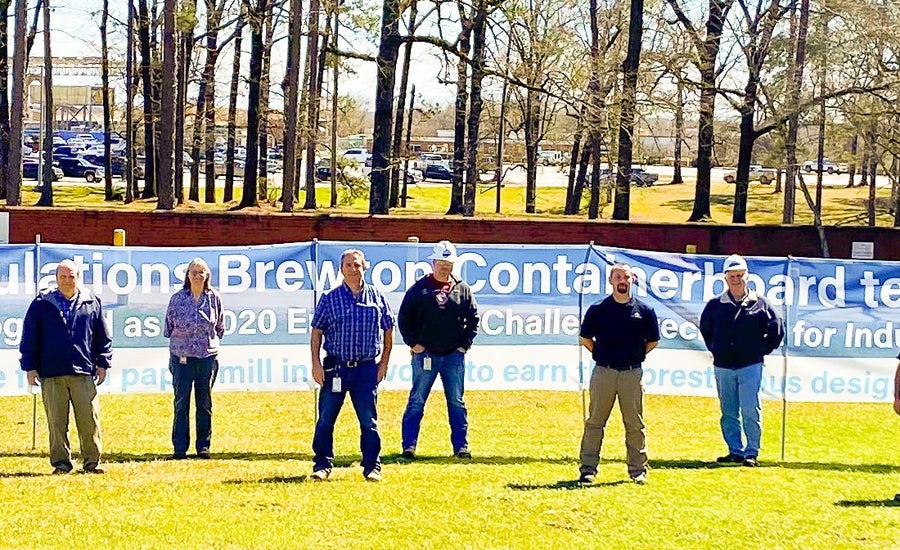 To earn this recognition, the Brewton mill improved energy intensity by 11.2% in four years, resulting in an annual savings of approximately $2.6 million. Brewton becomes the fourth paper mill in the U.S. to achieve this prestigious designation, joined by three other Georgia-Pacific paper mills located at Palatka, Florida; Green Bay (Broadway Mill), Wisconsin; and Muskogee, Oklahoma.
"As a company, we continually look for ways to advance environmental excellence, which includes working to consume fewer resources such as energy," said Tommy Blaylock, Brewton mill vice president and mill general manager. "As a business neighbor within the region, we have a vested interest doing the right things and I'm extremely proud of our team's focus around energy efficiency and reduction efforts."
Blaylock attributes much of the mill's success in energy reduction to the 2016 installation of the mill's recovery boiler and evaporator, a $388 million project that burns residual material from the paper-making process to generate steam to power the mill. The project included a 75-megawatt turbine that can generate enough electricity to serve 60,000 homes, or the entire city of Auburn, Alabama.
The Brewton mill produces large rolls of paperboard products used to make corrugated boxes and paper plates. The facility employs more than 400, with an annual payroll and benefits of approximately than $36 million.
According to the EPA, if the energy efficiency of U.S. commercial and industrial buildings improved by 10%, Americans would save about $20 billion and reduce greenhouse gases equal to approximately 30 million vehicles.
Palatka, Florida
Georgia-Pacific's Palatka, Florida, consumer products mill and the kraft papermaking department team was awarded the EPA's ENERGY STAR® Top Project for 2020 for achieving a 40 percent water reduction in a 10-week period through investments in improved equipment and monitoring.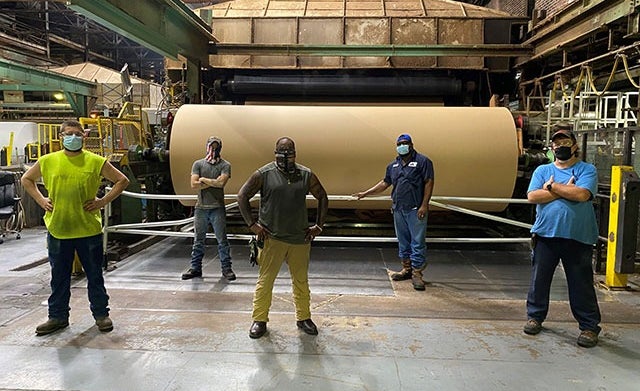 Employees at Palatka mill
"As a company, we believe in being responsible stewards of our natural resources," said Mike Griffith, general manager of the Palatka mill. "Since 2018, we have placed considerable focus on how much water we use daily and how much we can save. This work exemplifies the type of collaboration and results we see across the Palatka team every day and I'm proud of the team for identifying opportunities that strengthen and improve our operations and conserve resources."
Lastly, for a second year in a row, Georgia-Pacific and KBX Logistics were awarded the EPA SmartWay Excellence Award for their innovations in streamlined shipping efficiency. The two companies continue to collaborate on improving practices in intermodal shipping, load capacity and backhauls.
Georgia-Pacific Consumer Products LP 2020 U.S. EPA SmartWay Excellence Award Recipient
"We're honored to accept the from the EPA on behalf of Georgia-Pacific Consumer Products LLC for a second year in a row," said Ken Weber, Director Dedicated Fleets of KBX Logistics. "This award recognizes freight and supply chain industry leaders, like us, for our outstanding environmental stewardship, and validates that what we implement and continue to refine is making a difference. Improving our operating efficiencies is a full-time focus and is good for both the business and the environment."
Georgia-Pacific, our facilities and our partners are dedicated to streamlining our businesses through a sustainability lens. Winning isn't everything, but we are honored to be recognized for our successes and will continue to strive to meet and exceed the standards set for us by the EPA and other sustainability focused organizations.