Community Heroes: One GP Employee's Effort to Spark Hope in a Pandemic
The actions we take within our communities are often the biggest catalysts for change at a larger scale – something Charles Koch discusses at length in his newest book, Believe in People – and after a long year of social distancing, our employees are finding new ways to connect with their communities and make a difference.
Ivan Garcia, a senior technical analyst for intelligent automation, has been volunteering as a translator and coordinator at COVID-19 testing and vaccination sites on the weekends since November.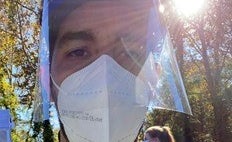 Garcia wears protective clothing as he waits outside a COVID-19 testing facility in Atlanta to help coordinate Spanish-speaking Georgians in underserved communities to get tested for the virus.
"My wife and I first started volunteering through Emory as translators at COVID-19 testing sites on the Buford Highway corridor," Garcia said. "However, once the vaccines rolled out, they told us they were short staffed and needed people to process and coordinate vaccinations. That led to registering with the Fulton County Medical Reserves Corp. so we could continue helping."
What started as a small effort to ramp up testing in underserved Latin communities, turned into Garcia spending his Saturdays at Mercedes-Benz stadium helping thousands of Georgia residents with their vaccine paperwork and then monitoring them after they received the shot.​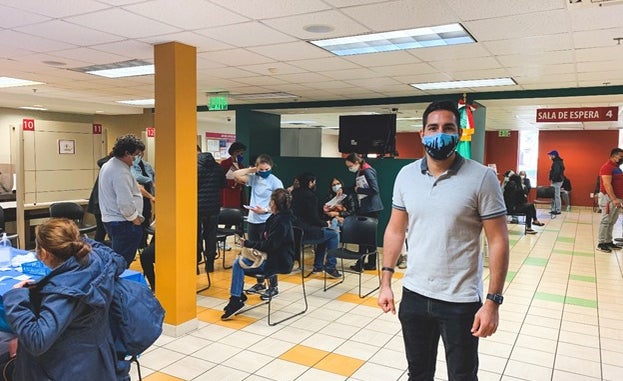 Garcia stands inside a COVID-19 vaccination facility, where he and his wife help Georgians complete paperwork and answer any questions while they wait to get vaccinated.
Garcia and his wife's time volunteering has also been an invaluable spark for staying hopeful during the pandemic.
"For me, this experience has truly helped me see the light at the end of the tunnel," Garcia said. "Getting to talk to so many people and hear their struggles and their triumphs has been so inspiring. I know that for so many the vaccine is their ticket to normalcy – it's so wonderful to get to see their excitement firsthand."
"If you have a desire to get involved, the first step is simply to act on it," Garcia said. "Signing up is a small step you can take right now that could lead to something big, for yourself and your community."
If you or someone you know is interested in helping with COVID testing or vaccine coordination, visit the sites below.
ServGA – https://servga.gov/
MRC – https://mrc.hhs.gov/volunteerFldr/AboutVolunteering​
​