Georgia-Pacific Completes Multi-Million Dollar Renovation Project at Diboll Lumber
The $7 million Diboll Lumber capital improvement project is just one of many investments Georgia-Pacific is making at its lumber mills throughout the country.
February 8, 2022
Diboll, Texas— Georgia-Pacific's Diboll Lumber Mill in Texas has been a mainstay for the last 100-plus years in Diboll and the surrounding towns. As one of the most prestigious lumber mills in the East Texas, Diboll Lumber not only produces quality building materials for its customers but also provides good solid jobs that date back to the late 1800s. To ensure its longevity for many years to come, Georgia-Pacific has completed a $7 million  upgrade that will modernize the mill and help increase its overall production.
"We have been in business for a long time in Diboll and this investment, which comes on the heels of the construction of a new multi-million-dollar crane, shows GP's commitment to grow and thrive in this community," said Danny Wright, Diboll Lumber Plant Manager. 
The capital project focused on the mill's boiler reliability and maintenance and the rebuild of two drying kilns. "Our kilns were actually built in the early 80s. From replacing kiln panels and roof vents to the installation of a new heating coil system and the manual baffle lift system, the kilns will be more reliable and as a result will lead to fewer downtime events and minimize continuous repairs," said Wright.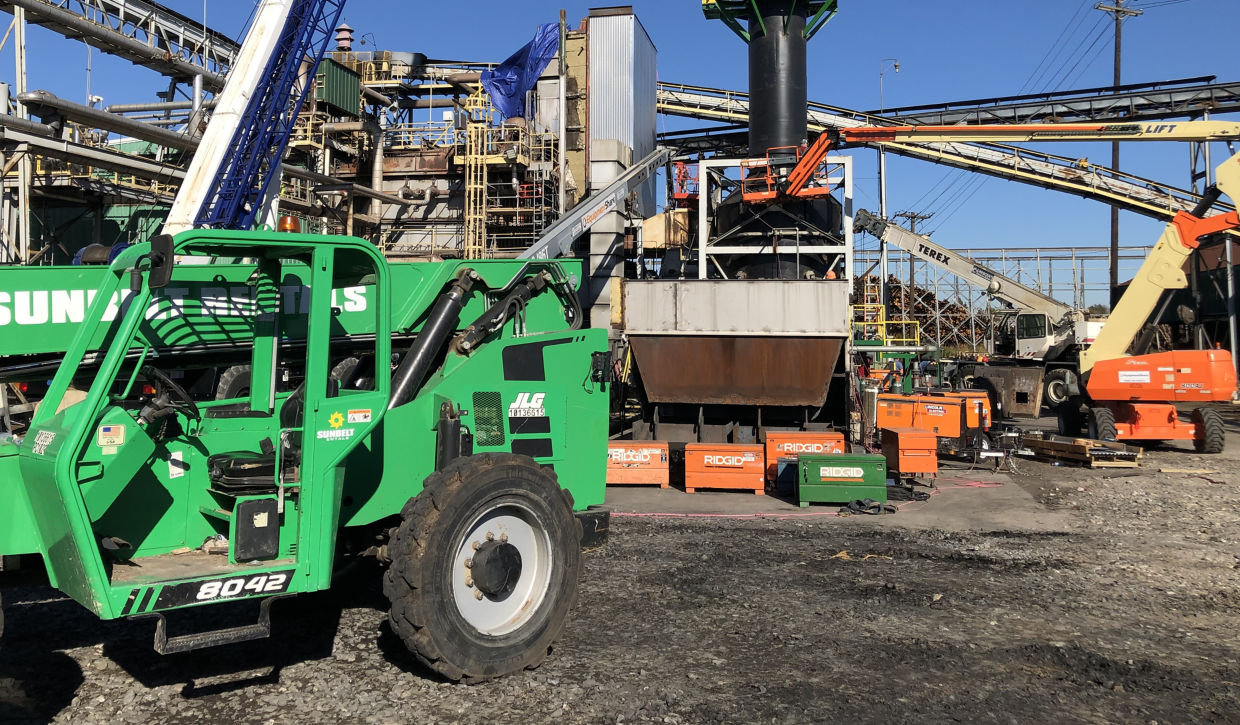 A local welder is just one of two hundred contractors onsite for Georgia-Pacific's $7 million capital improvement project at Diboll Lumber. The investment will modernize the mill and help increase overall production.
While the kilns' purpose is to dry the lumber and remove moisture from the wood, the boiler also plays a critical role in lumber production. In fact, it is referred to as the heart of the mill since its responsibility is heating water to make steam, which powers various systems within the mill. "We've basically rebuilt our boiler by replacing tubing, adding a new air heat exchanger and scrubber stack, soot blower, ID fan, condensation tank, pumping system and water softening system. Our boiler was installed in 1973 and we are very fortunate to have been able to get about 50 good years out of it. With these updates we will have a more reliable machine with less maintenance issues."
Two hundred contractors plus employees completed the multi-million-dollar improvement project in a little over two weeks. "Due to high demand for our products within the marketplace, we worked hard to get the updates completed as effectively and efficiently as possible," said Wright.
Georgia-Pacific Diboll Lumber employees (l to r) James Evans, reliability engineer; Brad Ivie, maintenance manager; and Danny Wright, plant manager, discuss the rebuild of the mill's two kilns and boiler.
The Diboll Lumber capital improvement project is just one of many investments Georgia-Pacific is making at its lumber mills throughout the country. This year the company's Pineland Lumber Mill in Pineland, Texas, will undergo $120 million in additions and improvements in an overall modernization effort that will also increase the mill's overall production.