Georgia-Pacific breaks ground on a more than $425 million state-of-the-art Dixie facility in Jackson, Tennessee

Originally published: September 26, 2022
Updated: December 12, 2022
*This story has been updated to reflect the latest information on the progress of the new facility.
Jackson, Tennessee – Georgia-Pacific recently broke ground on a state-of-the-art Dixie facility in Jackson, Tennessee. Georgia-Pacific's investment is worth more than $425 million and is the largest single investment in the city's history. Once operational, the plant will employ more than 200 people and produce well-known tableware products, including the Dixie® and Dixie Ultra® lines of plates and bowls.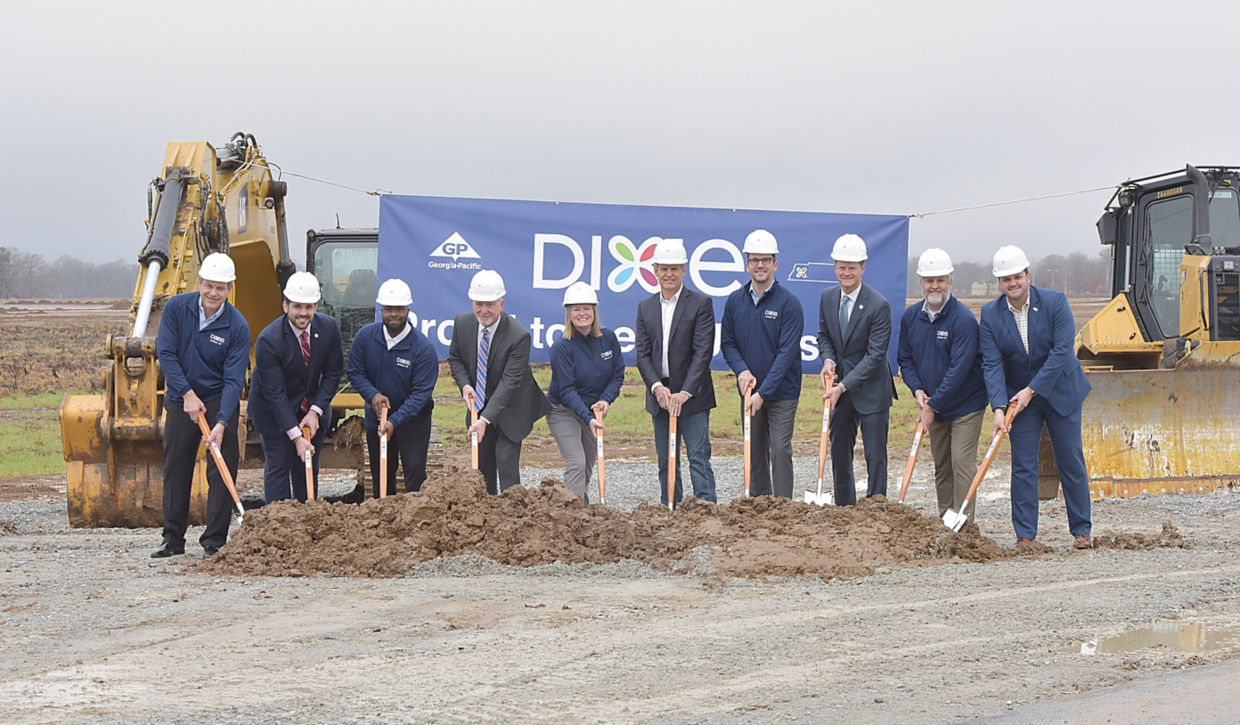 Groundbreaking of the new Dixie facility in Jackson, Tennessee Pictured: Jeff Fleck (GP), Scott Conger – Jackson Mayor, Mike Cook (GP), Kyle Spurgeon – President/CEO, Greater Jackson Chamber, Carrie Shapiro – VP of Dixie® Manufacturing, Bill Lee – Tennessee Governor, Nate Smiga (GP), Stuart McWhorter – Commissioner, Tennessee Economic and Community Development, Andrew Noble (GP), AJ Massey – Madison County Mayor
"Although we have invested to expand existing sites, this is the first new Dixie® plant the company has built since 1991," explains Fernando Gonzalez, president of the consumer business at Georgia-Pacific. "This added capacity will help us meet the needs of our customers as consumer demand for high-quality, durable paper plates and bowls continues to grow."
The 900,000-square-foot facility will sit on 241 acres west of the city. Construction is slated to begin by the end of the year and startup is expected in the summer of 2024. The fully air-conditioned workspace will include a printer, associated plate forming converting assets, and other state-of-the-art manufacturing technology. Georgia-Pacific directly employs approximately 460 people and operates six facilities in Tennessee.
"Companies choose to invest in Tennessee because of our skilled workforce and unmatched business climate," said Tennessee Governor Bill Lee. "I commend Georgia-Pacific's commitment to creating more than 200 jobs in Jackson so that Tennesseans across the region can thrive." 
Currently, Georgia-Pacific's economic impact contributes to 1,430 additional indirect jobs and $100 million in labor income, and the capital investment in the state has totaled more than $250 million since 2011. GP's capital investments grow and improve our businesses which have a multiplier effect on people and the communities where we operate.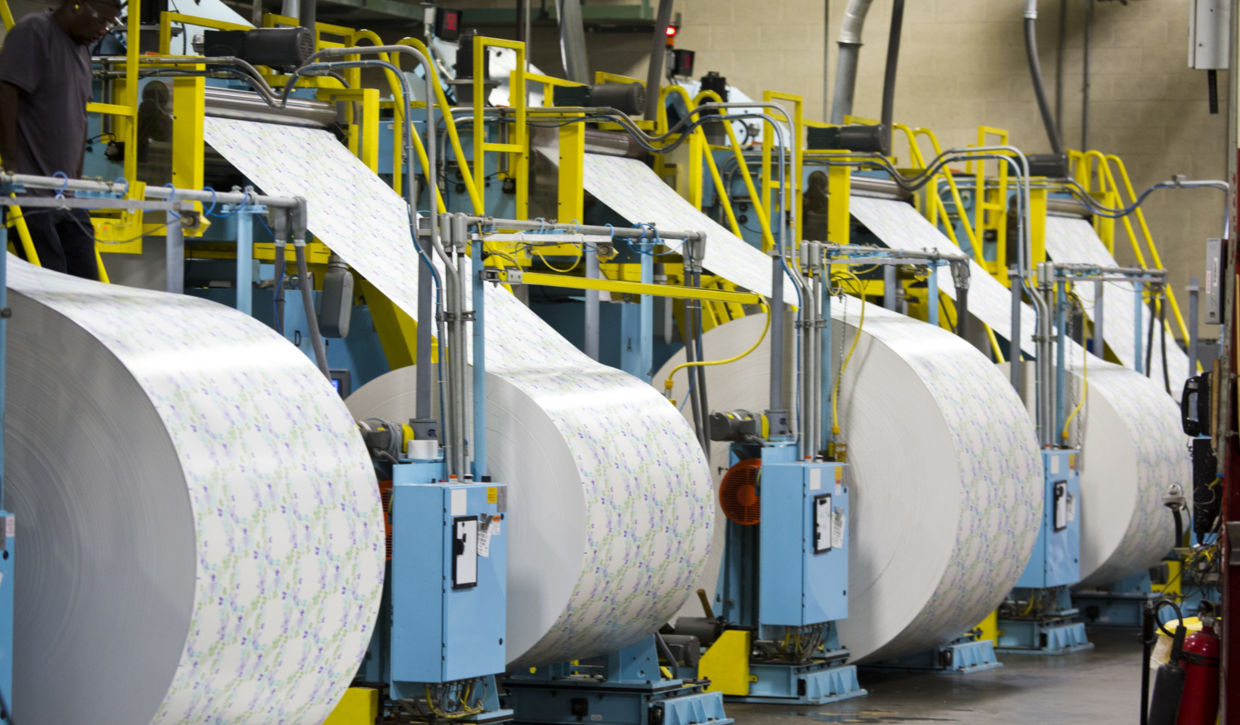 Five freshly printed rolls are sent to the forming press prior to transforming into final Dixie® products.
The company will begin recruiting, hiring, and training employees in 2023. Georgia-Pacific has a long history of investing in people, and the Jackson plant will provide development for team members to allow them the opportunity to continue growing in their careers.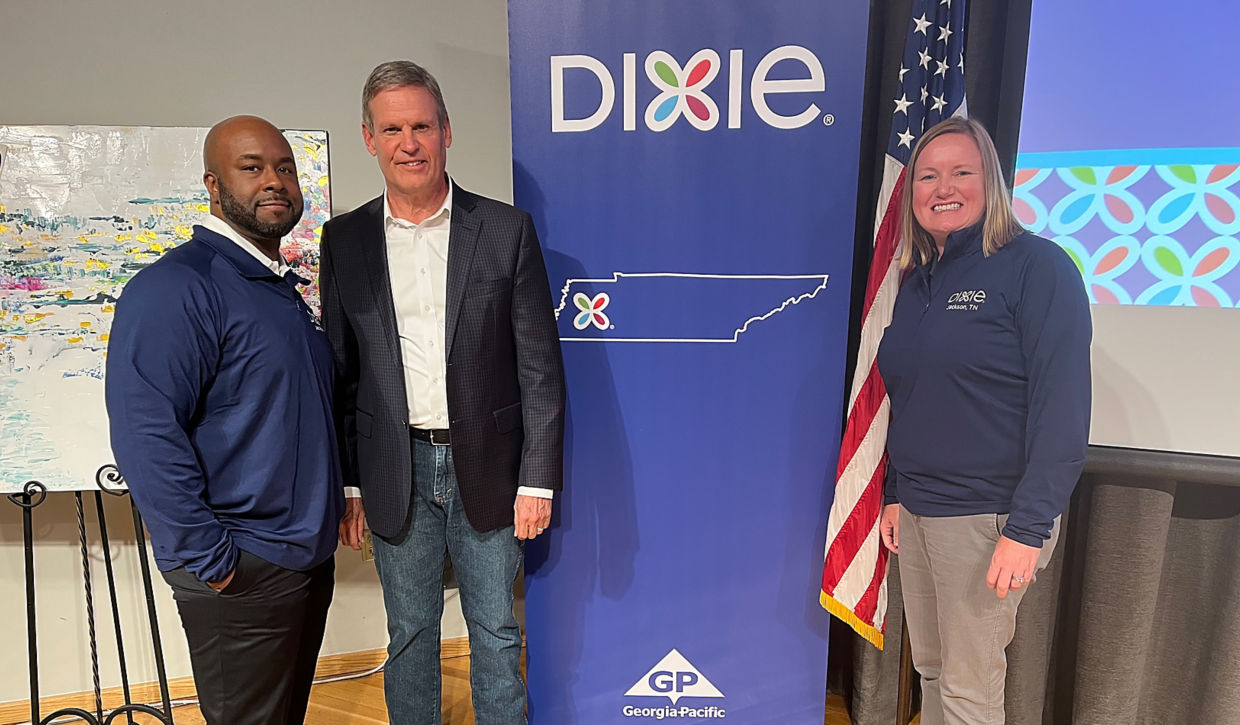 Pictured: Jackson, Tennessee Dixie® Plant Director Mike Cook, Tennessee Governor, Bill Lee , and VP of Dixie® Manufacturing Carrie Shapiro