Southern Yellow Pine: Yesterday, Today, and Tomorrow
February 7, 2023
Atlanta - Georgia-Pacific has a long history of innovation in the forestry industry. Since starting as a small sawmill company in 1927, Georgia-Pacific has focused on the future. The company's commitment to creating mutual benefit to help people improve their lives has enabled the development of a wide range of groundbreaking products for commercial and residential use, including the many uses of southern yellow pine.
In the spirit of innovation, Georgia-Pacific's lumber business is pioneering the use of southern yellow pine in mass timber along with Jamestown, a global real estate investment and management firm that operates Ponce City Market, and SmartLam North America, a building material supplier, to support the construction of a four-story mass timber loft office building called 619 Ponce. This will be the first four-story mass timber loft office building developed with the correct specifications for using southern yellow pine and assembled onsite like prefabricated homes which will expedite and simplify the building process. The building will include 90,000 square feet of office space and 23,000 square feet of ground-level retail space.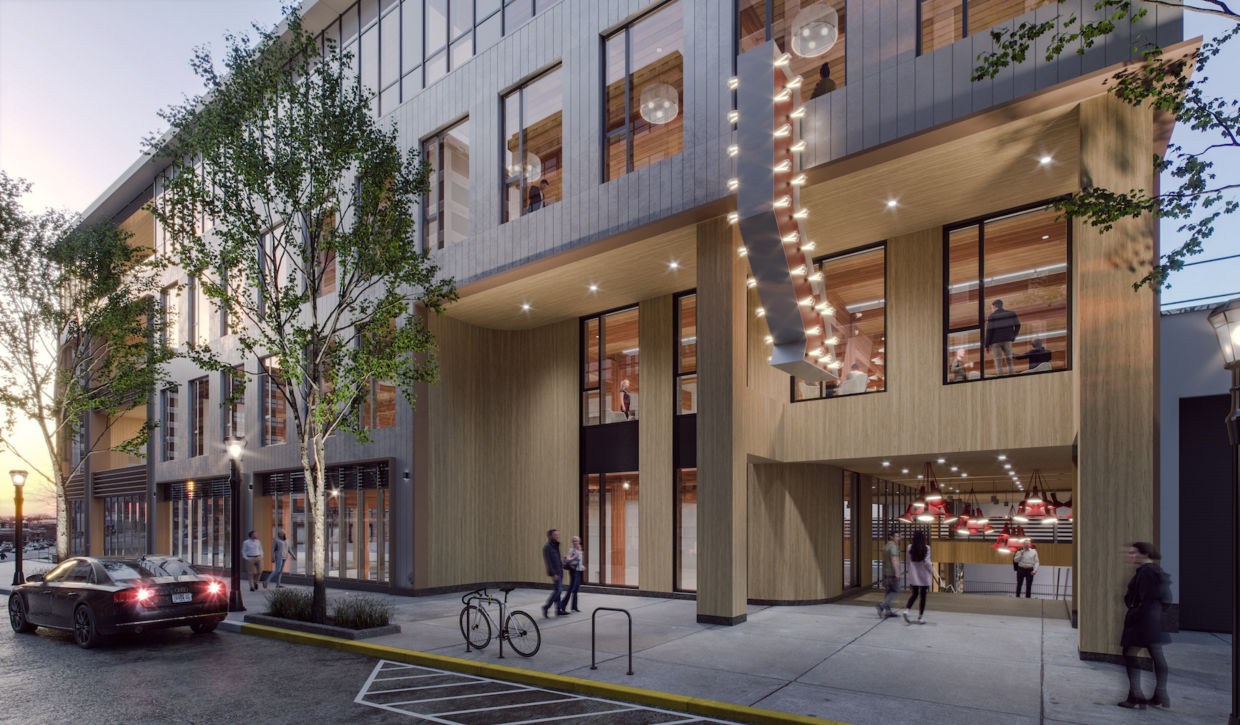 619 Ponce is expected to open in 2024.
Historically, lumber has been an integral material used in building structures dating back to 500 B.C. While the material was primarily created for the construction of roofs, it was modern wood framing techniques developed in the ninth century Europe that was later adapted around the world and became the go-to method for homes and office buildings over the next few centuries.
Fast forward to modern day, Georgia-Pacific has become a leading supplier and innovator of sub-flooring, lumber, roofing, and exterior sheathing for residential and commercial buildings. In 1964, the company took on the challenge of completely altering plywood by proving that Douglas fir was not the only tree suitable for making the product which went against the grain of industry knowledge around experimentation and application. The company did not deter even after several failed experiments conducted by institutions determined there was no feasible process for turning southern yellow pine into plywood.
Georgia-Pacific began selling their new southern yellow pine plywood in late 1964. Stanley Dennison was the head of Georgia-Pacific's Southern region during this time and was tasked with selling the new product, which builders in the south did not previously use due to high freight rates for western plywood. "My biggest job was convincing the builders to use [the] plywood," Dennison said.
Builders preferred using one-by-six boards due to the cost, but ultimately, the value of time convinced builders to use the new product, saving them about half the time it would typically take to build a home. As demand grew for using southern yellow pine as plywood, Georgia-Pacific invested in opening more plants in the south dedicated to producing this product.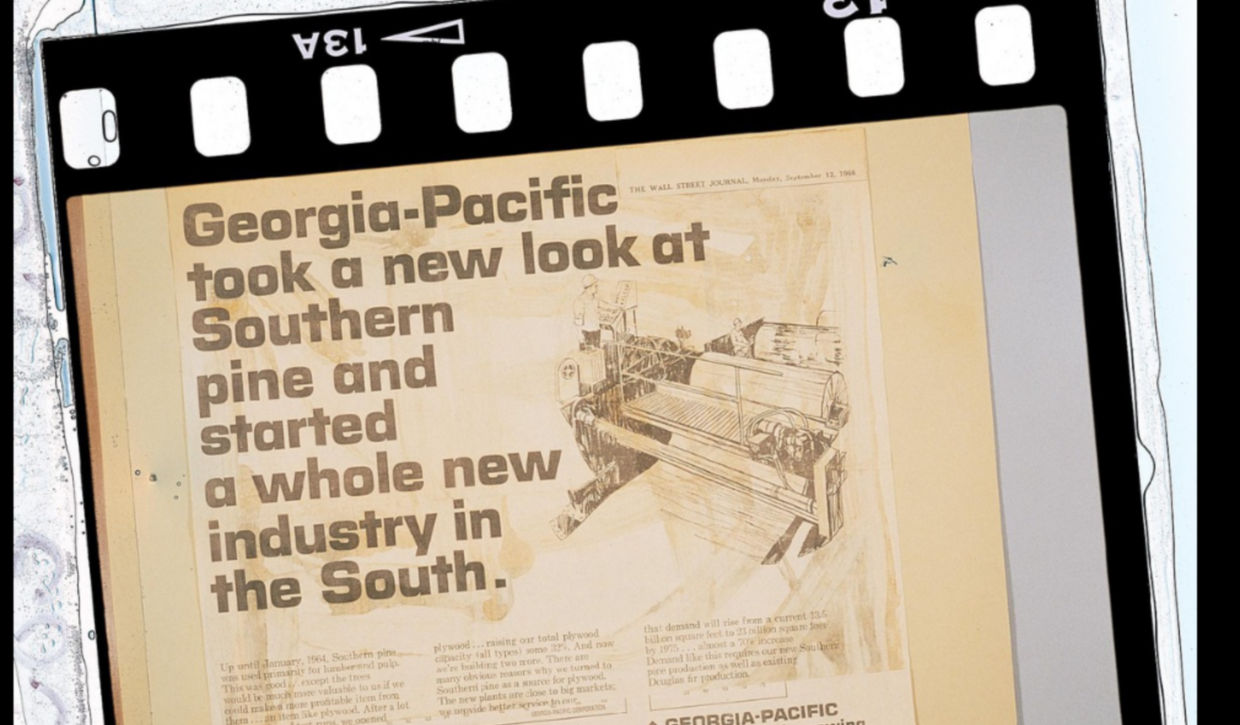 Fast forward almost six decades and the company continues to invest in modern plants as demand for southern yellow pine grows. The use of southern yellow pine in mass timber and collaboration in projects like 619 Ponce are ways the company continues to innovate.
What's so innovative about 619 Ponce? It will be constructed with cross-laminated timber. Cross-laminated timber is a lightweight prefabricated wood panel used to save time during construction. Georgia-Pacific has helped its customer, SmartLam North America, develop the correct specifications for using southern yellow pine in its cross-laminated timber. The wood for the project was recently shipped from a forest south of Columbus, Georgia, managed by Jamestown, to our building products mill in Albany. That's where the lumber is cut before it's shipped to SmartLam North America, which will manufacture the cross-laminated lumber panels.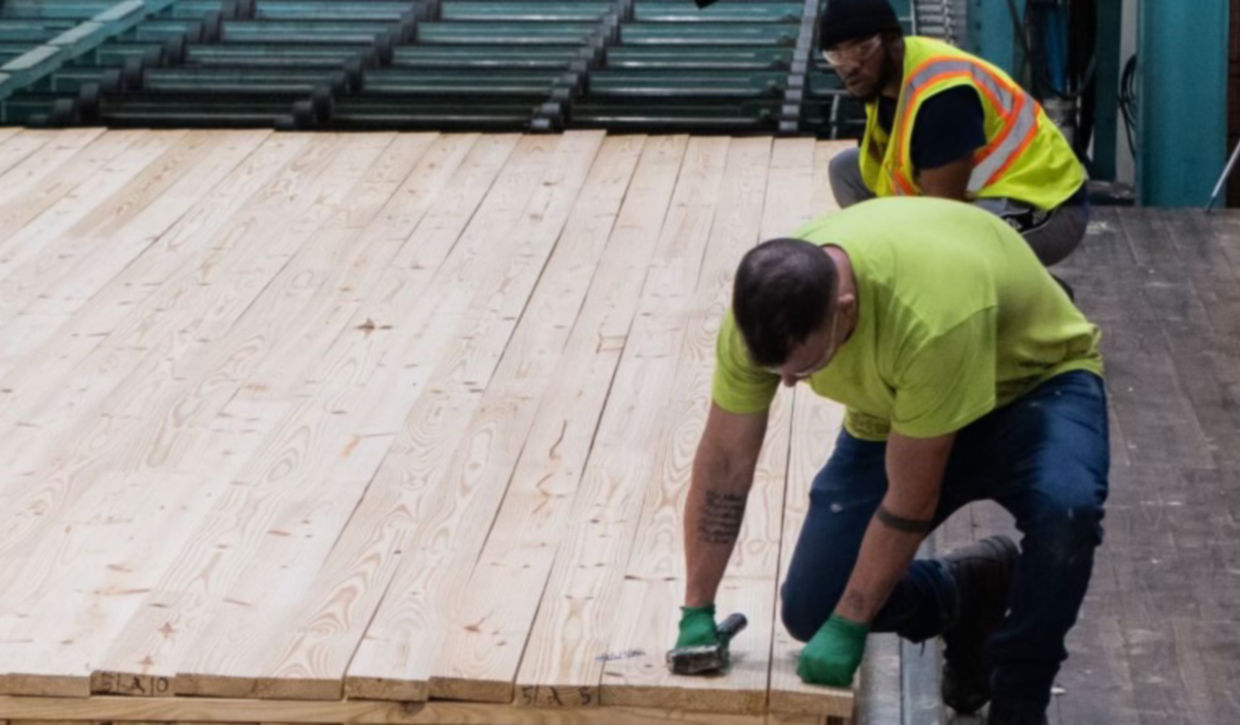 Lumber arriving from Georgia-Pacific's mill in Albany, Georgia to Smartlam North America in Dothan, Alabama.
"Mass timber is an increasingly attractive building material because of its unique environmental sustainability qualities, and Georgia-Pacific's building products business recognized the opportunity to support the growth of this product by joining with a landmark project using southern yellow pine lumber, which is something we have a lot of experience with," said Fritz Mason, president of Georgia-Pacific Lumber.
619 Ponce is expected to open in 2024.